St. John's, Newfoundland brewpub makes beer from bread
(St. John's, NL – Wed. Apr 20, 2016) In a project designed to draw attention to innovation in using food waste and the benefits of business collaboration, a St. John's, Newfoundland brewpub has created a beer using day-old bread.
Yellowbelly Brewery's Brewis – Hard Tack Ale is a lightly hopped, mild brown ale created using bread from neighbouring Rocket Bakery, just a few doors away on Water Street.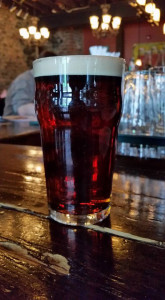 Sourdough, raisin bread, baguettes, rye, and multigrain were collected and frozen over the course of a few weeks, then sliced and toasted to prepare for mashing in (a steeping process where malted barley and water are converted to fermentable sugars).
"We've successfully combined the pepperiness of the rye bread with the lactic acid backnotes from the sourdough. Notes of fig, raisin and molasses add significant depth to the character of the beer," comments brewmaster Liam McKenna.  "It's remarkable."
McKenna admits he was wading into the unknown – using bread in brewing is a bit of a lost art. But the unknown is a territory he embraces. All of McKenna's beers are balanced and drinkable but the opportunity to work with unusual ingredients has a special appeal for the veteran brewer. Day-old bread is only the latest in McKenna's use of local and foraged ingredients (parsnips, spruce tips, bake apples and stinging nettles) in Yellowbelly's beers.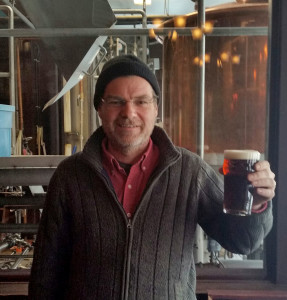 McKenna and his team mashed in twice – once with malt alone, the second time with the toasted bread. The mixture was then fermented with a simple ale yeast. The method employed harkens back to the days of antiquity, when a primitive bread rather than barley was the main ingredient in many beers. The beer is only four percent alcohol by volume but rich in character and boasts a deep amber colour. Light in body, McKenna says it has a notable "breadiness."
Yellowbelly Brewery owner Craig Flynn is equally enthusiastic about the project.
"Over my 20 years in the food and beverage business,  I have seen an enormous amount of waste. It is my biggest pet peeve. To see our great YellowBelly brewers recycle bread and create something  so practical and yummy really does put a smile on my face.  Especially if I have more than one."
From Rocket Bakery's perspective, the collaboration makes good business sense.
"Our spent coffee grounds and egg shells are being spread on local farmers' fields," says co-owner Kelly Mansell. "So, being able to also give our day-old bread another life in a form that Yellowbelly and Rocket customers can enjoy is good for everyone."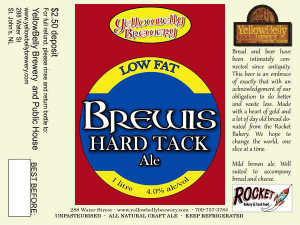 McKenna was inspired by a brewery in England that is doing something similar on a larger scale – the ancient connection between beer and bread and the opportunity to address issues around food waste resonated with McKenna.
"As someone who spends a lot of time in restaurants and sees how much food enters the waste stream, as a consumer who sees food thrown out by retailers, and as a member of the local and global community who finds it difficult to concede that people are going hungry in the face of such wasted abundance – this project spoke to me," says McKenna. "I hope to draw some attention to the issue of food waste and make others think about it a little more as well."
He is currently investigating the possibilities of a beer flavoured with Labrador tea.
Brewis – Hard Tack Ale will be on draft at Yellowbelly Brewery (and the Rocket)  beginning Monday April 18. A limited release of bottles will be available at the brewery and at selected local NLC stores as well.