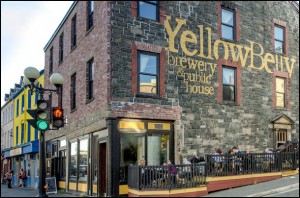 Contact Us
YellowBelly Brewery & Public House
288 Water Street & 1 George Street
Box 323, St. John's, NL  A1C 5J9
Reservations or inquiries:
(709) 757-3780 phone
(709) 722-3531 fax
Reservations Supervisor: monicaelizabeth845@gmail.com
For inquiries about Events, Weddings, Bookings & Catering, please e-mail our Catering Manager:  yellowbellygm@gmail.com
Brewmaster:  yellowbellybrewmaster@gmail.com
Follow us on Facebook:
www.facebook.com/yellowbellybrew | www.facebook.com/underbellyspeakeasy
Follow YellowBelly on Twitter: @yellowbellybrew
Follow The UnderBelly on Twitter: @The_UnderBelly
Hours:  11:30am–2am Mon–Thu, 11am–3am Fri–Sun
Brewery/Building Tours:  It is our pleasure to showcase our brewery and/or our building. Tours are usually limited to 10 or less, and as they usually include a small tasting, they are restricted to ages 19+. Please contact Craig at the restaurant for more information.
For further inquiries or complaints please contact our General Manager at lorandgmyellowbelly@gmail.com.